Predicting food safety incidents plays a strategic role in the decision-making process of the food industry leaders. Unsafe products and food recalls have proved to be major threats and very critical factors affecting the brand equity of big food manufacturers and retailers worldwide.
Recovering from a food product recall is a highly expensive process, involving direct costs such as operations towards managing the recall, namely product disposal, customer reimbursement, business process interruption, but also significant indirect costs, mainly related to the reputational damage. A product recall can result in serious long-term financial damage for a food company, due to loss of sales, consumer trust and loyalty.
Nowadays, with the increasing awareness around food safety, and with regulators insisting on tightening food safety standards, consumers tend to be highly sensitive when it comes to the food products, they choose to consume.
As a result, brands should invest their energy, money, and time in order to discover new methods and tools that can help them, not only monitor, but also predict food safety incidents in their global supply chain.
Predictive analytics can actually assist Food Safety and Quality Assurance professionals in identifying emerging hazards & risks, prevent product recalls and the brand damage caused by them.
Let's take for example an actual case that has happened, when a PL product recall of a big European retailer was announced, and how this could have been prevented using predictive analytics.
The case of food fraud in honey:
During October 2020, a big recall on honey products occurred, due to the presence of the chemical sulphite ammonia caramel (e 150d). Among the recalled products, there was a private label one, produced and sold by a large European retailer.
Using isMOOD social listening platform, we identified that this recall gave rise to an increase in related online and social media discussions. Consumers used their online accounts to increase awareness on the issue and express their concerns.
Closely monitoring the volume of discussions for two weeks, we observed that when the recall was announced there was a 60% increase in the volume of online and social media discussions, around 450 comments in a few hours.
However, the sentiment of these discussions, and their impact on the overall brand equity of the retailer is of paramount importance. More specifically, 89% of the discussions had a negative sentiment.
The impact of the recall on brand equity, as captured through online discussions, was even higher. After monitoring the online discussions for the next 15 days, we found out that the recall had led to a significant increase on the overall discussions around the retailer, while negative comments had been tripled.
The discussions taken into account were mainly on social media, such as Twitter and Facebook, suggesting that they refer mostly to consumer discussions and comments, rather than sharing of the news.
These numbers reflect the potential brand damage that can be caused by an unfortunate and unintended food safety incident.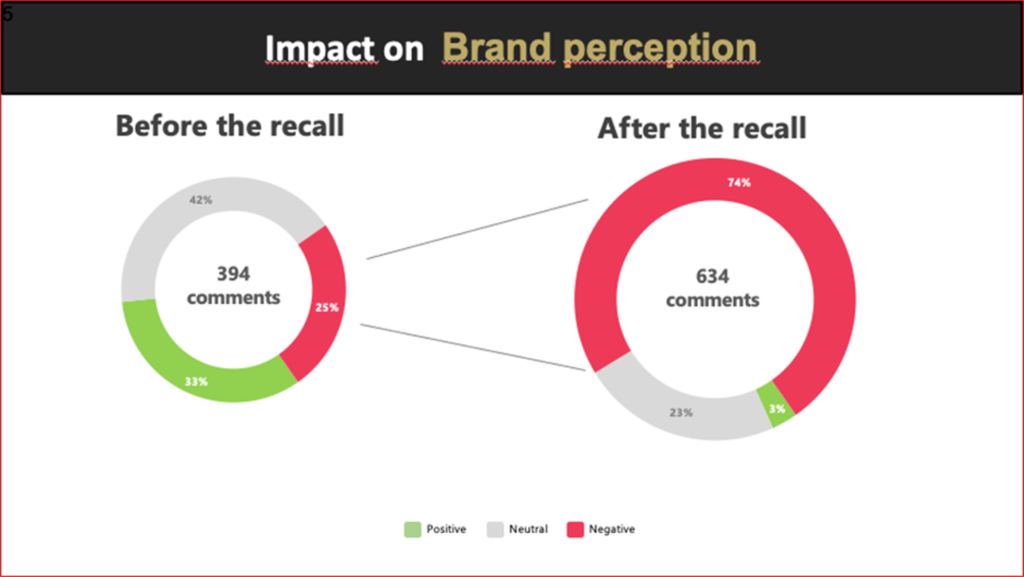 Could this brand damage have been prevented?
Absolutely! Let's see how predictive analytics would have helped in the honey recall case.
Step 1: Access historical data
We searched for historical data and identified that there have been 29 incidents for sulphite ammonia caramel (e 150d) in honey products, since 2012.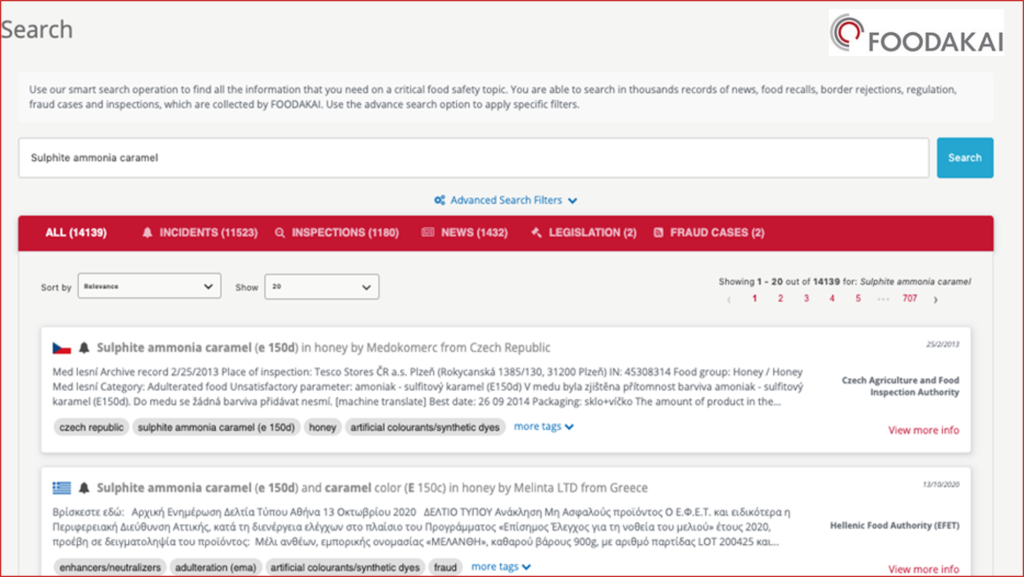 Step 2: Predict emerging risk
The sulphite ammonia caramel (e 150d) is among the top 5 predicted risks within the product category of honey for 2021.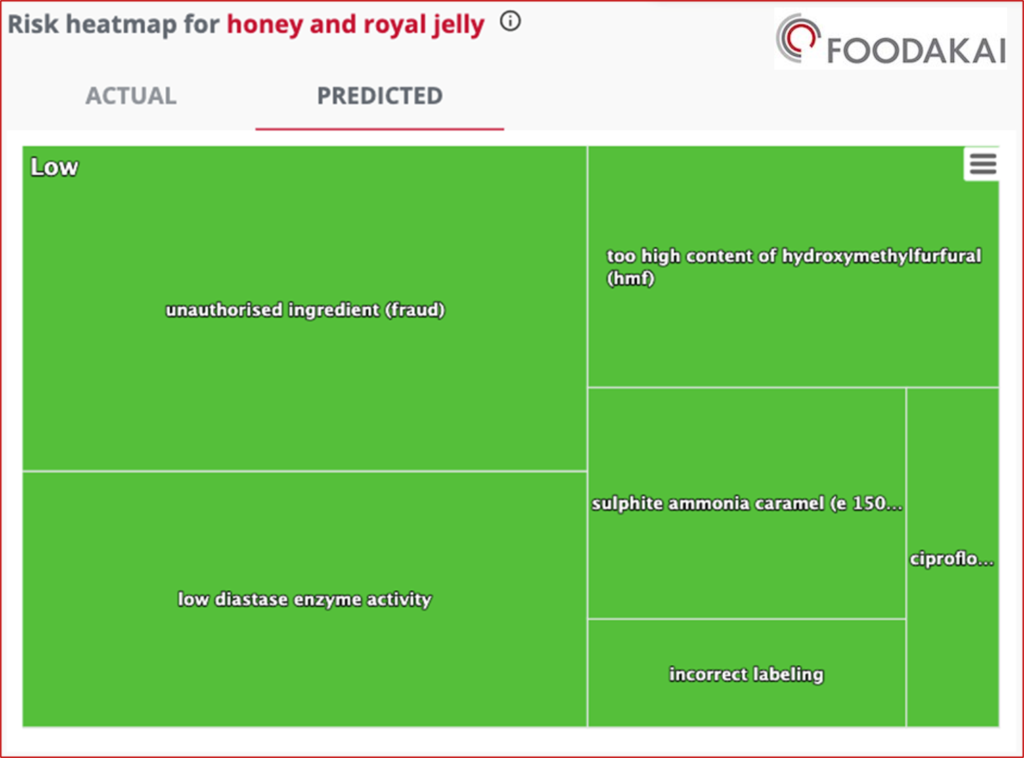 This is an indicative case where predictive analytics could have been used to solve real food safety challenges, prevent a food recall from happening, and as a result the brand damage reflected on it.
The advancements in technology along with the availability of data, especially when it comes to the food safety industry have enabled a number of improvements towards enhancing the predictive capabilities of food risk assessment and prevention, so food safety leaders can now feel more confident and secure, when dealing with important decisions.
If you'd like to discover how FOODAKAI can help your Food Safety & Quality team prevent product recalls by monitoring & predicting risks, schedule a call with us!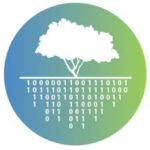 "Funded with the support by European Commission, and more specifically the project CYBELE "FOSTERING PRECISION AGRICULTURE AND LIVESTOCK FARMING THROUGH SECURE ACCESS TO LARGE-SCALE HPC-ENABLED VIRTUAL INDUSTRIAL EXPERIMENTATION ENVIRONMENT EMPOWERING SCALABLE BIG DATA ANALYTICS" (Grant No. 825355)"