As a leader, dealing with the future is not a piece of cake. Especially, when it comes to challenging decisions that can cost product reputation and brand trust such as food safety issues. But what is happening behind the scenes when the decision-making is in progress?
Even though loads and loads of disconnected data are being analyzed, the issue remains. There is no unified approach in future risk assessment. Global supply chain monitoring and assessing food safety hazards is not only a laborious, but also a tricky task. Too much time spent analyzing scattered data, spreadsheets with local versions are still being used and there are so many different data sources about hazards. On top of that, the predictions, finally generated, are not trustworthy and reliable. At the end of the day, the leaders are not confident of their decisions.
However, there is a way out of this impasse. Intelligent workflows that combine data technologies with the experience and knowledge of food safety experts can be used to convert these scattered and disconnected data to homogenous and actionable data. In that way, leaders are well-informed and in a better position to make their difficult decisions, to address food safety issues across the entire supply chain.
Because seeing is believing, we will take for example the candy industry, to have a closer look at the usefulness of interconnected data to gather insights and, most importantly, generate predictions of food safety and fraud risks.
According to FOODAKAI data, at the beginning of the decade, the trend of food safety and fraud incidents, reported by the authorities, for the candy category was at low levels. In 2016, a high increase has been observed, with a small decreasing tendency through the next years and seems that it will decrease again in 2020. This could be related to the industry's focus on the COVID-19 situation. ​The high pick in 2016 resulted from one recall on chocolate candies, announced by the FDA, about 30 products contaminated with Salmonella.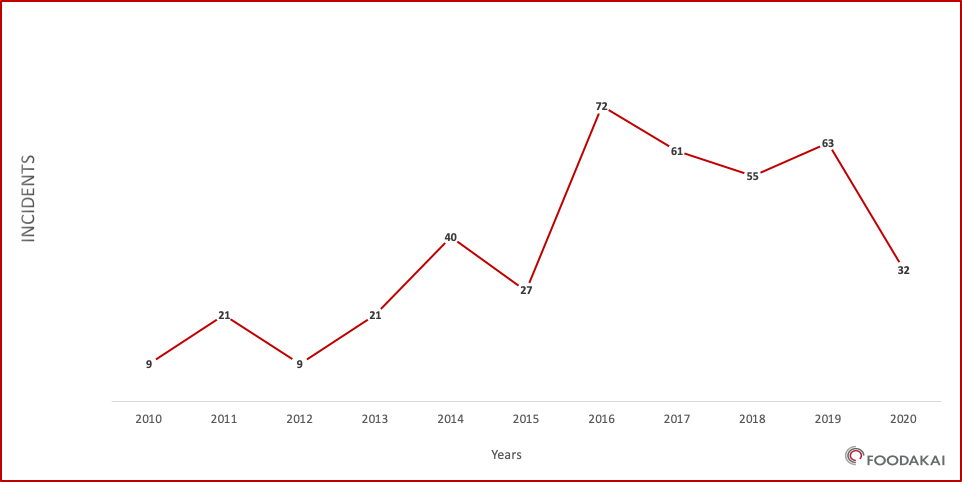 The top hazards category is fraud, followed by food additives. Together, account for 72% of all incidents reported. Other hazards category includes issues such as organoleptic aspects and foreign bodies.
Looking at the trend of fraud issues in candy products, there was a high increase in 2017. Additionally, in 2018 the fraud incidents were decreased at low levels. The same pattern is observed for 2019-2020.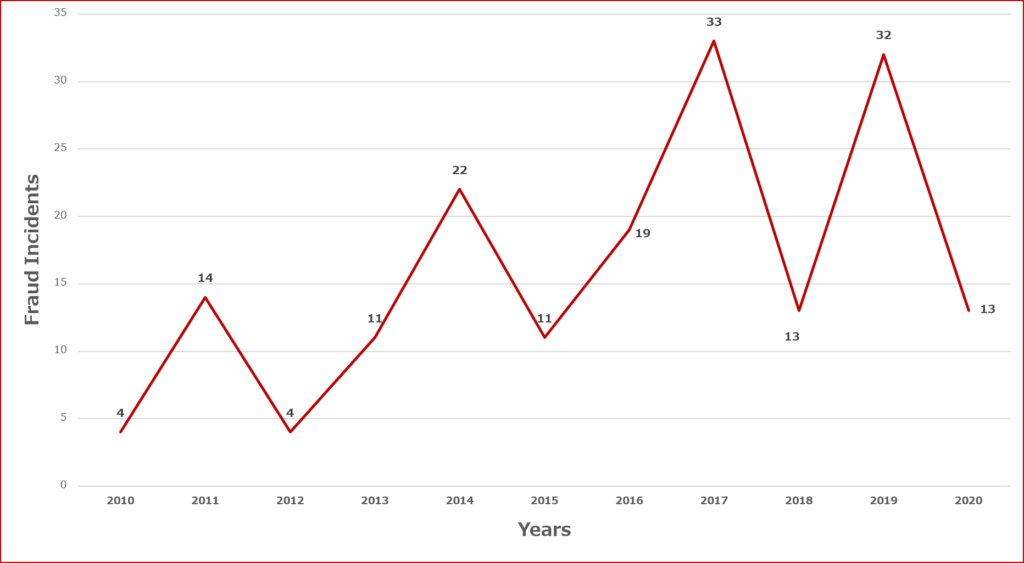 The top 5 frauds officially reported to be found in candies during the past decade are:
Unauthorized Ingredient
Unauthorized Color
Missing Required Nutrition Information
Incorrect Labeling
Inefficient Labeling/Documentation
What we can learn from predictions for candy products
Before we continue to the FOODAKAI predictions, it is vital to describe shortly the methodology (recently published in Springer) that we applied for the predictions.
It combines big data processing with artificial intelligence technologies. The first step of this methodology is the generation of a dataset that is specific for the industry for which we want to generate predictions. There are numerous algorithms that can be used. We try both machine learning and deep learning algorithms, and for every case, we choose the most appropriate one. At last, we train and test our model by applying different methods of splitting our tailor-made dataset into a train and test dataset.
Back to the candy industry example, the incident trends for this category for the next 12 months are presented below. The prediction is that there will be an increase in incidents by 37% based on the pattern of incidents of the last 20 years. ​
The prediction model can also make an estimation of the hazards that will increase within the next 12 months. For instance, unauthorized ingredient cases will increase in the next few months by 33%.
Based on the frequency and the severity of the incidents, a risk model can also predict how much the risk will be increased for a hazard like listeria, e.g. by 32%.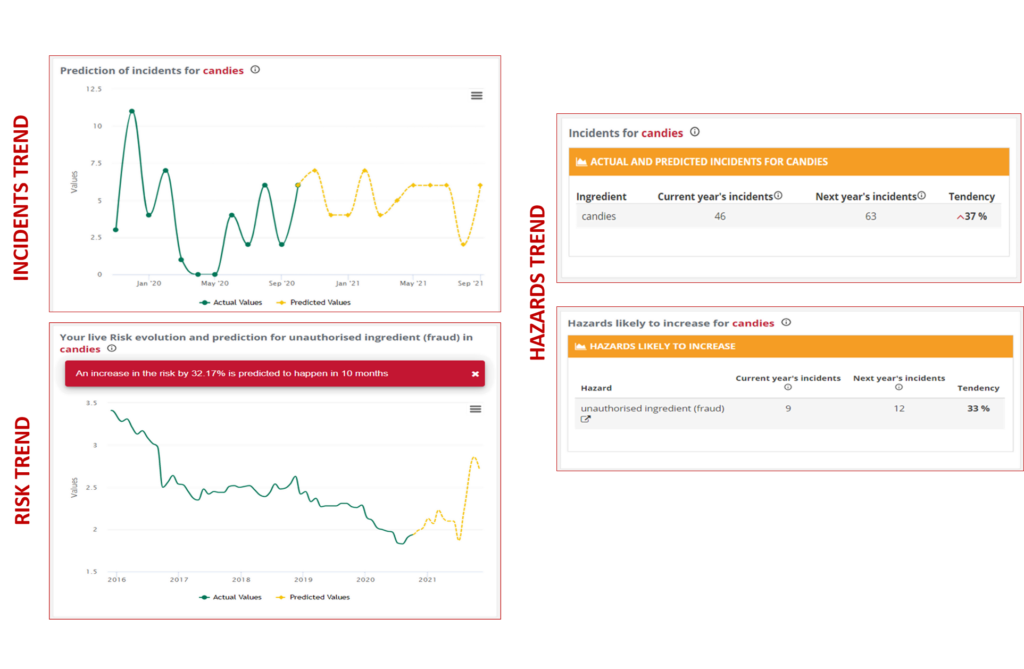 These predictions are a powerful tool to assist Food Safety & Quality professionals in rebuilding their strategy, moving from reacting to preventing food safety issues. Predictions based on global food safety incidents can be used to validate the laboratory analysis plan and make sure that the focus will be on the riskiest points of the supply chain.
If you'd like to discover how FOODAKAI can help your Food Safety & Quality team prevent product recalls by monitoring & predicting risks, schedule a call with us!