Who doesn't love sesame seeds? They are a popular ingredient in many cuisines and bakery products around the world thanks to their deliciously nutty, slightly sweet taste and aroma which can be enhanced by toasting. Unfortunately, sesame seed containing products have been undergoing a massive recall in Europe since September 2020.
The reason? The unauthorized existence of ethylene oxide.
Large batches of imported sesame seeds were found to be contaminated with concentrations of ethylene oxide that exceeded the maximum residue limit by over 1000 times.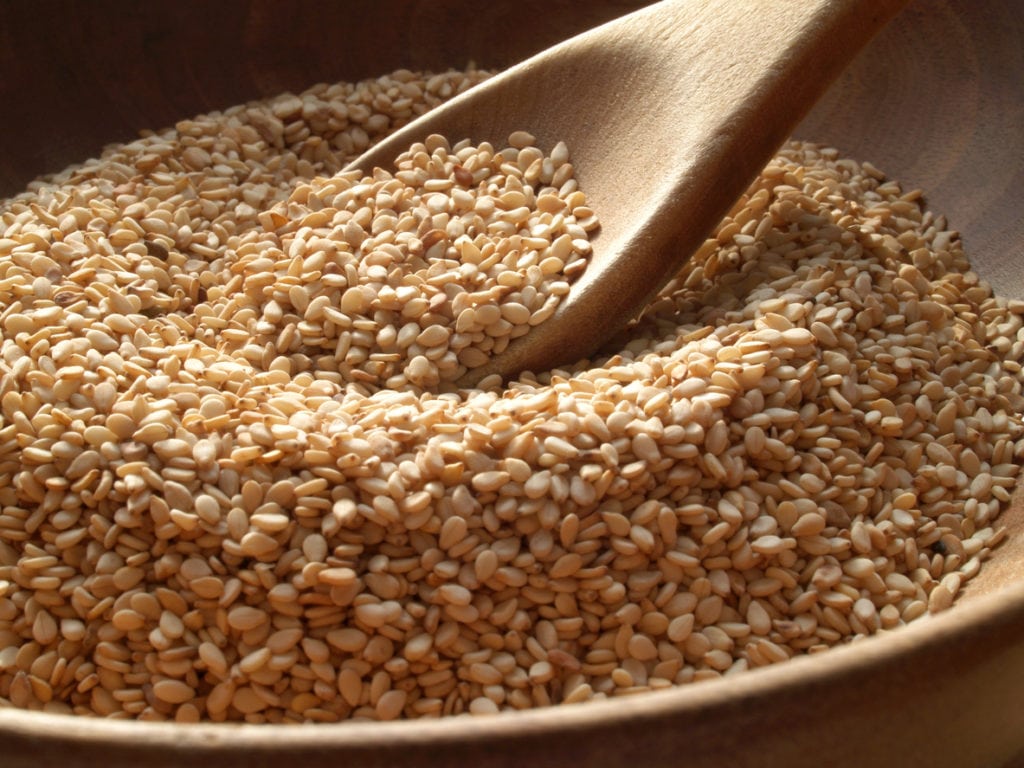 While discussing this crisis with Roberto Buttini (VP Global Quality and Food Safety, Barilla), he asked me:
"Tell me honestly: could AI have helped us really predict excessive ethylene oxide concentrations in sesame seeds before the massive recalls took place?"
I had to dig deep into the sesame seed recall data, in order to provide a thorough answer.
Officially reported recalls and border rejections started to appear in early September 2020. Within a few days, multiple recalls were announced by RASSF and the food safety authorities of Belgium, Luxembourg and France. After the announcement of recalls of 14 different products due to the unauthorized existence of ethylene oxide in sesame seeds, it was obvious that something was wrong.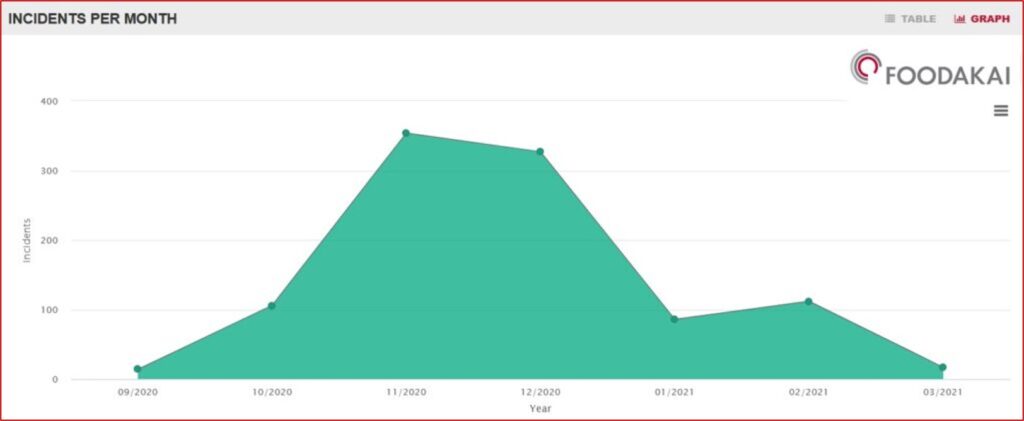 When such news hits the mailbox, Roberto's team (as would any other Quality & Food Safety team) wanted to be able to immediately assess if and how it affected their supply chain. Then, they would know exactly what actions to take, including:
Immediately investigating which products and manufacturing lines use sesame seeds, in order to test for suspiciously high concentrations of ethylene oxide. This ensures that either production can be paused or products can be recalled before making it to market.
Requesting extensive lab testing for ethylene oxide and 2-chloro-ethanol on any upcoming purchases of sesame seeds, for the full duration of the crisis, paying special attention to imports from countries who reported higher incidences of contamination.
Performing a fast online supplier check to see if their existing vendors had been involved in any of the recalls. In such a case, they can explore the option of switching to an alternative supplier, and check safety performance and risk profiles.
But how could food companies know immediately about issues that require escalation, so that they can put preventive measures in place?
Well, they could have talked to us.
Our prediction algorithm had immediately identified the rapid increase in sesame seed incidents. This is why ethylene oxide was flagged as a rapidly emerging threat by  FOODAKAI's Global Predictions Dashboard.
More specifically, the algorithm flagged a sudden increase in relevant official recalls and border rejections that could not be justified by seasonality or other variables in the historical data. This was definitely a spike of incidents that should alarm sesame seed buyers in Europe.
As more and more incidents were officially announced, the algorithm updated its prediction: the forecast was that ethylene oxide would more than double the recalls of sesame seed products in the months to follow. Preventive measures had to be taken.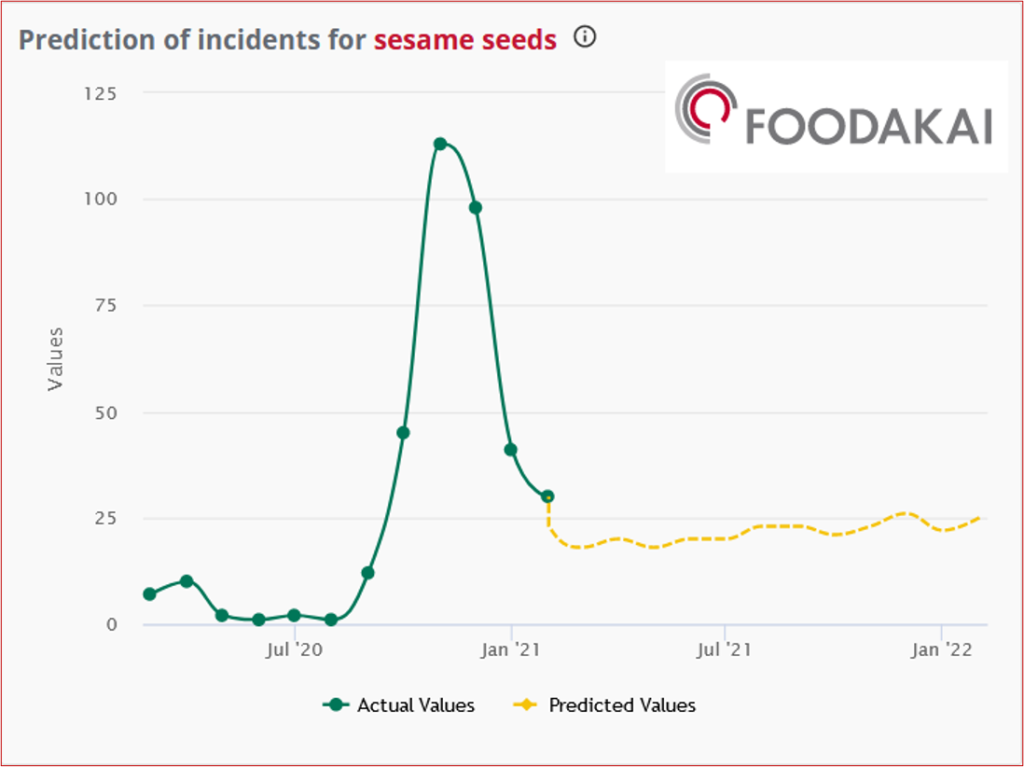 But how should a Quality & Food Safety team react to such a signal?
We highly recommend that, by the minute that predictions highlight a similar emerging risk, affected raw materials or products need to be included on the list of critical ingredients to monitor in real time.
We would not simply rely upon scanning the websites of food safety authorities or services that deliver alerts about new incidents.
In the midst of a crisis, critical ingredients and hazards should be monitored and evaluated systematically.
Ideally, using a global dashboard that provides continuously updated predictions about forecasted incidents and emerging risks for each critical ingredient.
Such as FOODAKAI's Global Predictions Dashboard. See it in action HERE.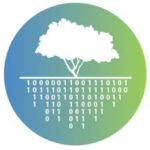 "Funded with the support by European Commission, and more specifically the project CYBELE "FOSTERING PRECISION AGRICULTURE AND LIVESTOCK FARMING THROUGH SECURE ACCESS TO LARGE-SCALE HPC-ENABLED VIRTUAL INDUSTRIAL EXPERIMENTATION ENVIRONMENT EMPOWERING SCALABLE BIG DATA ANALYTICS" (Grant No. 825355)"