It's the most wonderful time of the year. Not only because of the festive decorations and Christmas spirit, but also because of the countless traditional home-made desserts we bake to treat our family and friends, as we leave behind a year full of challenges. Cakes, pies, trifles, puddings, the Christmas desserts' list is endless with the beloved gingerbread cookies being at the top.
Gingerbread cookies' history dates back to Middle Ages, but the exact origins of their delicious recipe remain unknown. These mouthwatering cookies were traditionally famous for being man-shaped. Nowadays one can find them in every Christmas market and they come in many different shapes.
However, from the food safety point of view how safe are gingerbread cookies? First of all, let's see which their essential ingredients are. There is a wide variety of recipes of gingerbread cookies, however they are primarily made of butter, flour, eggs, ground nutmeg, brown sugar, and royal icing.
So, we run a risk analysis to find out how safe gingerbread cookies are. According to FOODAKAI data, the risk score of gingerbread cookies as a product is medium, with 4% increasing trend, although for the royal icing it is high, with 31% increasing trend.

Which is the next step? A risk assessment for all the ingredients, one by one, in order to better understand what these scores actually mean. One can easily see that the risk score of the specific gingerbread ingredients is also at medium level and it is likely to decrease in future, except for butter.

As for the royal icing, the risk score of salmonella in liquid egg whites is high and likely to increase by 31%, taking into account data from the last decade. The risk score of sugar as an ingredient is medium, nevertheless it shows a 200% increasing trend.

Using our Global Predictions Dashboard, we investigated what should be expected for butter, the basic ingredient of gingerbread cookies and other holiday desserts, for the next 12 months. In 2021 less incidents are being expected, but most of these incidents are going to be associated to listeria, which appears to be an increasing hazard.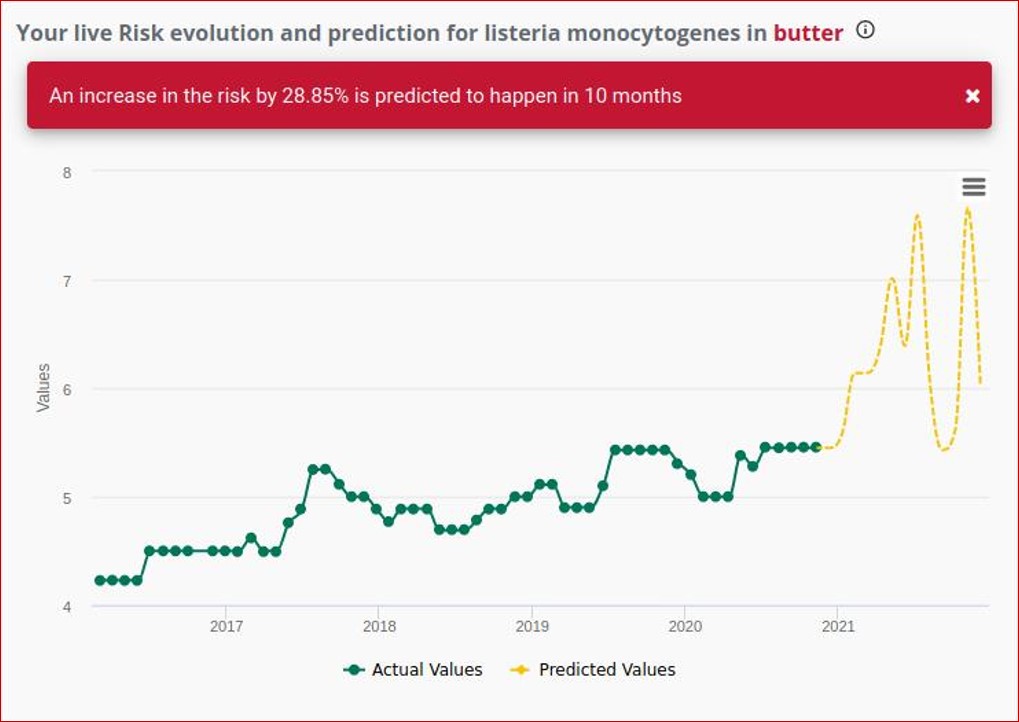 There is nothing to fear, so this holiday season indulge yourself with some gingerbread cookies.
Merry Christmas from the Agroknow team!
Happy Holidays and warm wishes for 2021.