When it comes to food safety, adopting a proactive strategy to prevent risks from appearing in the food supply chain is currently the most essential shift that the leaders of the largest food manufacturers around the globe are considering. Damage control after a product recall becomes a more outdated practice everyday.
Nevertheless, if food safety experts cannot somehow predict that a particular hazard will affect their key ingredients and/or suppliers, how could an emerging hazard be prevented? Predictive analytics, which have been a hot topic in the food industry for many years, are here to save the day.
The perils of predictive analytics for food safety are abundant! In fact, that was the topic we discussed with major food safety leaders from The Coca-Cola Company, Amazon and the FDA in our Special Session at this year's GFSI Conference. Today, we are able to predict food safety incidents and identify emerging risks in countless product categories, ingredients and international suppliers with the click of a button, by harnessing the power of data and artificial intelligence.
Food risk predictions could be generated for all of the above so that Food Safety and Quality Assurance teams can be prepared to handle the situation before a major product recall happens and causes financial expenditures and, most importantly, damages the brand's trust and reputation.
The Case of Fruits & Vegetables
Let's take Fruits & Vegetables, for example, a category connected to numerous other products, including dairy and beverages, to unravel how interconnected, enriched and curated food safety data can assist in preventing future product recalls, by generating reliable predictions and useful insights, invaluable to critical business decisions and strategic pivots.
According to historical data from FOODAKAI, Fruits & Vegetables have the highest percentage of incidents in the last 10 years.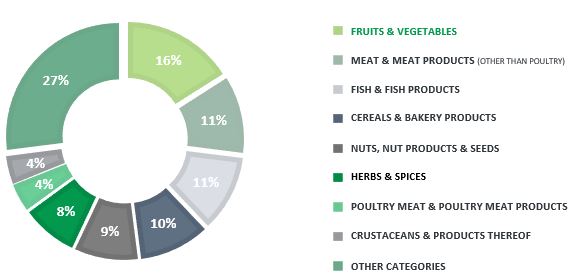 Over the years the incidents in this category have increased with the highest peak in 2019. As in most categories in 2020 there was a decreasing tendency, likely due to Covid-19 since less official inspections and tests were taking place.

Top hazards over the last decade in Fruits & Vegetables were chemical, followed by biological incidents. Together they account for more than 95% of all reported incidents.

Predictions for the next 12 months
In order to generate predictions for this specific category, first we used 20 years of historical data from official, international and trusted sources. Then, we created a training dataset with the relevant incidents for Fruits & Vegetables and followed our systematic method to test, measure, and select the right AI algorithms to generate the most accurate and reliable predictions. To familiarize yourself with our successful prediction method, watch our mini video series and learn more about predictive analytics for food safety.
In the next 12 months we expect a 46% increase in food safety incidents in Fruits & Vegetables.

By having access to such reliable incident predictions for food safety, risks and emerging hazards in your international food supply chain and being able to perform risk assessment for your company's key ingredients and suppliers, you establish the backbone of a smarter food safety strategy that mitigates food recalls, maintains brand loyalty, and most importantly, protects consumers. Our cloud-based solution with a straightforward interface, combining data technologies with food safety expertise and artificial intelligence can offer you that access.
For more Predictions and Data Insights in the Fruits & Vegetables category, download our thorough analysis report here and find out what the future holds.